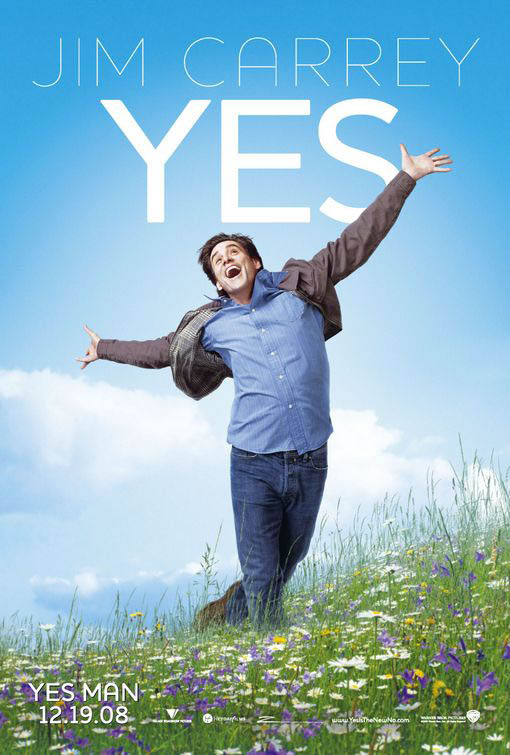 'Yes Man' is a movie I'll recommend to all those pessimists or those who tends to constrain themselves within the four walls of their room or house.




I wouldn't say I'm a pessimist; If I had to choose, I'd say that I'm more an optimist in certain ways since I'm a dreamer. Dreamers or idealists always tend to have a way of being so imaginative that they only see things wonderfully. Personally, I hate being an idealist, or rather, I'm sick of being an idealist, maybe because I'm tired of being let down so often.

Anyway, back to 'Yes Man' then. I guess the movie is in some ways 'summoning' us to say 'Yes'...to be positive and embrace every opportunity bestowed upon us. Jim Carrey's character, Carl started out as someone who says 'No' to almost EVERYTHING by giving excuses and neglecting the people around him who wants a chance to spend time with him. Because of the negativity, he denied himself the opportunity to live life to the max. After an awakening, Carl went to this "Yes" seminar thingy and made a 'covenant' to say Yes to everything. If not, something bad will happen to him. Of course in the end we learn that there is in fact no covenant made, it was only something to get him to say 'yes' and all those bad stuff that happened to him were just psychological effects...like how when you are negative, you generate negative stuff, that sort of thing. I think in the end we learn that, while it is always good to say "Yes", it is also very important to weigh every pros and cons before making a choice as to whether your answer is 'Yes' or 'No' - like what a normal human would do right?

I think it's good to say 'Yes' but sometimes I think one must also learn to say 'No'. I think although saying 'Yes' is good, I think for me sometimes the problem is learning to say 'No' to things that I don't want to do. Although there are some people who have a tendency to say 'No' to everything, there are also people who subdue to everything by saying 'Yes' all the time, even though they do not want to do it. I mean, I'm sure there are some of you really kind-hearted folks out there who would do everything for your friends or anyone for that matter even if it is at your inconvenience. I have friends who are like that - they are that kind and sometimes, I wonder why I can't be as kind as them. I think as I grow older, I've becoming harsher in a way that I do am able to say 'No' to certain people, but then after I deny the help, I feel so guilty for not helping. I sometimes wonder, do we have the rights to say no or are we supposed to help? If I don't want to help, but force myself to help...is that supposed to be? If not, then why do I feel so guilty and bad after rejecting to help?




I think 'Yes Man' is a good movie, but it doesn't keep you guessing what is going to happen next. So basically, you are just going with the flow, watching a movie that is not exactly climatic. I kept wondering what would the climax be since after watching around 1 hour or more, everything in the movie still seem rosy. The movie wasn't bad but it wasn't exceptional. It is just another movie that top ups Jim Carrey's acting career in comedies. There are certain parts that were funny, but wasn't extremely hilarious. If you want to laugh your butt off or roll down a fleet of stairs watching this one, I don't think so. I think in some ways this movie would be loved by many though. There is a strong message behind this movie, there's no doubt about it. Thus, I believe that there would be certain people that would love this simple yet entertaining movie. I mean sometimes in life, what better than to have a simple and relaxing, yet inspiring movie to make our day right?



Jim Carrey did a rendition of one of my favourite Third Eye Blind song "Jumper" in the movie to convince a 'jumper' to not jump


I'll recommend this movie to everyone because everyone could use a little boost of positivity in life. Plus, like I say, it is really not that bad considering that this is a very light movie that doesn't strain your brain much and to a certain extent will tickle one's funny bone. If you like hot guys, you can always check out Bradley Cooper, who plays Carl's best friend. Overall, not a bad movie for a relaxing Saturday night ;P


TC-My Rating:







With Lotsa Lurve,
TammyC