Gotta keep this quiet but I was in the office yesterday morning while the Oscars were on. I can't help but secretly check online the big winners of this year's huge award show. Besides, once done with the important tasks that I was supposed to do, I really have some extra time to spare.
I got live feeds from Twitter; basically every Tom, Dick and Harry I follow on Twitter are twitting about the Oscars. Some about the fashions, while others on the winners etc. It's really hard to keep this huge news a surprise. I mean, try this…try to not find out about anything Oscar-winners until its repeat show at 9.30PM this Wednesday. It's definitely going to be a challenge because of this thing called the MEDIA. Oscar news will be out tonight, if not right now and before you know it, you don't even have to watch it Wednesday. That's the power of media.
I really didn't know which blog to post this entry to (the movie one or the rattling one), but I guess in the end I settled here because, oh well, the Oscars is indeed about celebrating films and actors/actresses.
So anyway, I understand that "The Hurt Locker" was the biggest winner of the night. To be fair, I haven't watched "The Hurt Locker" yet so I really can't compare it to the major blockbuster "Avatar". But looking at it in general, I think I'd enjoy "Avatar" more, though that doesn't mean that the Oscar should go to "Avatar". I really have to watch "The Hurt Locker" first, to see if I understand why the movie is given the honour of Best Picture, among the other awards that they got. Further elaborations on "The Hurt Locker" would have to wait til after I watch it but it'll be on my movie blog.
Here is a list of the Top Winners:
Best Picture:
The Hurt Locker
(Everyone is speculating that this is a battle between the Navis and the soldiers of Earth – Avatar and Hurt Locker. And towards the end, are you surprised that The Hurt Locker won? I guess judging from the fact that it is a low-budget film with such excellent presentation, perhaps it is the rightful winner.)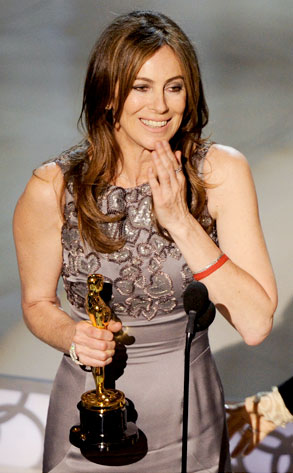 Best Director:
Kathryn Bigelow, The
Hurt Locker
Best Actor:
Jeff Bridges,
Crazy Heart
Best Actress:
Sandra Bullock,
The Blind Side
(I tried to watch "The Blind Side" but the first 5-minutes of the movie that goes on about football failed to capture me…but…but…but…I'll be giving it another chance because I know it is a good movie. Plus Sandra Bullock is in it! Though she also received a Razzie award for being the worst actress (I don't know how she ended there), I think that
Sandy
is far from worst man! I still don't get how Sandy can end up in the same category as Paris Hilton in terms of acting (Paris Hilton won the Razzie award for her performance in "House of Wax" last time), but I'm telling you this, Sandra Bullock is definitely one of the best Hollywood actresses around.)
Best Supporting Actor:
Christoph Waltz,
Inglourious Basterds
(This really come in as no surprise because everyone sorta knows Christoph is the clear winner. His awesome acting in Inglourious Basterds definitely deserves credits and what better compliments can one get than an Oscar award, right?)
Best Supporting Actress:
Mo'Nique,
Precious: Based On The Novel 'Push' By Sapphire
Best Animated Feature:
Up (Yes!!! It's my favourite too!!)
Best Art Direction:
Avatar
(There's no doubt what-so-ever that when it comes to art direction – the visual effects, colours and artistic styles that conveys the mood, Avatar should win hands down! I mean, if you actually did watch this movie, I'm sure you were awe-struck by the beauty of Pandora.)
Best film editing:
The Hurt Locker
Best costume design:
The Young Victoria
Best sound editing:
The Hurt Locker
Best sound mixing:
The Hurt Locker
Best cinematography:
Avatar
(No doubt because the landscape of Pandora is too mesmerizing.)
To wrap it up, this year most predictions were spot on. Many were rooting for Sandra Bullock and also Christoph Waltz and both of them went home with something golden. Not bad at all. Now I hope I have the patience to watch the repeat of the Oscar this week =P
ps: Can't believe it has been one year since Slumdog Millionaire...